Detached house Petibon - ANG2314
Standort: Anglet urban center
Holiday rentals | Comfortable detached house, perfect for families, boasting great location near shops and local services and surrounded by a fully enclosed garden. Spacious living room looking out onto verandah and large patio.
Four bedrooms, two of which are equipped with double beds. One bedroom has a sofa-bed and one a single bed. Cot available. One bathroom with bath. Baby bath seat available. One shower room with shower and toilet adjoining bedroom. Two bedrooms with ensuite wash-hand basins and toilets. One separate toilet. Fully-fitted open-plan kitchen adjoining the living room, with oven, microwave oven, fridge-freezer, gas cooker, dishwasher, pod coffee machine; child's high chair available on request. Kitchen, living room and dining room look out onto an indoor patio and large outdoor patio with outdoor dining furniture set. Large living room with television and Wifi + small lounge area for relaxing in with desk and bookcase. To top it off, enjoy views over the garden and surrounding area. Modern, cosy, comfortable interior décor. Garage with laundry area, suitable for storing equipment, bicycles, surfboards etc. Two adult bicycles and two children's bicycles available. Barbecue. Trampoline. Mini vegetable garden. Car parking in the yard. Single storey design, surface area: 170 m².
Household linen available on request: 20 €
Cleaning services provided if desired: 120 €


Weekly rates:
From 07/04 to 21/04: 1500 € / From 14/07 to 25/08: 1500 €
Einrichtungen und Serviceleistungen
Allgemeine Einrichtungen

Zimmerausstattung
"Detached house Petibon - ANG2314" mit ähnlichen Alternativen vergleichen
Beautiful bright and spacious apartment on the first floor of a villa, with private courtyard, in a quiet residential area of Anglet.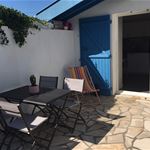 Charming apartment in small, renovated farm in a very quiet cul de sac. Close to shops and a 5 minute drive to the beach.
Pretty apartment on the first floor of a residential apartment building in the heart of Anglet. Top-quality fittings and tasteful décor. Near shops and bus stop.