Detached house Hondartza - ANG1264
Dirección

: 17 impasse Hondartza Allée de Fontaine Laborde, 64600 Anglet
mostrar mapa
Ubicación: Anglet beaches
Holiday rentals | This pretty, modern detached house boasts a lovely setting with views over the ocean and the forest. Located in a private gated estate a stone's throw from the beaches and shops of the Chambre d'Amour district.
A real haven of peace and quiet boasting easy access to the Cinq Cantons district and the golf de Chiberta golf course.

Upstairs: two bedrooms, one with ocean views, the other looking over the forest. Each has its own shower room and a queen-size bed. Separate toilets upstairs. Ground floor: pleasant living area that opens directly onto the outside with a double sofa-bed, flat-screen TV, DVD player and Wifi. Fully-fitted open-plan kitchen adjoining the living room with oven, microwave oven, induction cooker, dishwasher, washing machine, Nespresso machine. Bathroom with shower. Plenty of storage space. Separate toilets. Large patio with adjustable cover, garden furniture, sofa, large table and plancha grill. Enclosed garden adjoining the patio. Private and visitor parking. Direct access to the beach via a secure gate.
Sheets and household linen supplied.

Capacity : 6 persons
Area : 62 m²

Weekly rates:
January, February and March: 750 € / April and May: 850 € / June: 900 € / First fortnight of July: 1200 € / Second fortnight of July: 1500 € / First three weeks in August: 1800 € / Last week in August: 1500 € / September: 900 € / October: 850 € / November and December: 750 € / Short stays available in the low season (minimum 4 nights): 150 € per night
Instalaciones y servicios
Las instalaciones generales

Número de habitaciones: 2

Parrilla al aire libre

Televisión
Comparar "Detached house Hondartza - ANG1264" con alternativas similares
House with sea views from the roof terrace. Excellent location, a stone's throw from the beach and various local services. Completely refurbished. Top-quality fittings. Private, lockable garage. A great place for surfers, just a 200 metre walk from the beach.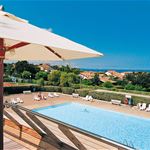 El pueblo se encuentra en una ubicación perfecta, a 300 m de la playa, cerca del magnífico bosque de Chiberta. Desde la terraza del bar podrá apreciar la vista de la piscina y del mar.
Pleasant studio flat in quiet, secure apartment building near the beaches of Anglet. 85 m² enclosed garden and 25 m² patio with ocean views. Shops and leisure activities of the Chambre d'Amour district within easy reach.