Studio flat Gochoki - ANG1323
Dirección

: 22 allée Yves Brunaud Bâtiment B, 64600 Anglet
mostrar mapa
Ubicación: Anglet urban center
Holiday rentals | Pretty, luxury studio flat. Beautifully-appointed. Contemporary décor. Located in a quiet, leafy neighbourhood in Anglet town centre. Bus stop nearby.
Living room with sofa-bed and television. Small sleeping area with 1 double bed, separated from living room by a curtain. Bathroom with bath. Small fitted kitchen area with oven and microwave oven. Baby equipment available for the use of guests. Patio with outdoor dining furniture set (tables/chairs) looking onto tree-planted grounds. Double-glazing. Private car parking. Private cellar. Lift.


Weekly rates:
Low season: 350-380 € / June: 400 € / July: 500 € / August: 580 € / September: 450 €
Instalaciones y servicios
Las instalaciones generales

Número de habitaciones: 1

Televisión
Comparar "Studio flat Gochoki - ANG1323" con alternativas similares
En el centro de un parque verde de 3 hectáreas con piscina, pista de tenis y zonas de juegos para los niños, el Novotel Biarritz-Anglet Aéroport dispone de equipos que le permitirán conciliar la tranquilidad, la relajación, el ocio y el trabajo.
Located 1 km from Anglet and its shops, the colonial-style architecture of the La Croisière holiday apartment complex takes the shape of semi-detached, split-level houses each with their own patio, set around a swimming pool.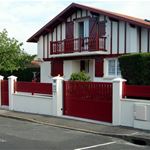 Spacious, modern apartment on the first floor of a pretty Basque house in a residential area of Anglet. Close to Anglet town centre, shops, the Theatre and the Quintaou market.