Apartment Mirande-David - ANG1227
Dirección

: Bâtiment A - Appt. 47 Résidence Les Californiennes 23 allée du Coût, 64600 Anglet
mostrar mapa
Ubicación: Anglet beaches
Holiday rentals | Split-level apartment with bedroom and mezzanine level on the second floor of a small, quiet residental apartment building located about 800 m from the beach and the shops.
One bedroom with 1 double bed and 1 mezzanine bedroom with 2 single beds. Small lounge area with television. Bathroom with shower. Fully fitted kitchen with microwave oven, freezer and dishwasher. Balcony. Private car parking.


Weekly rates:
August: 800 €
Instalaciones y servicios
Las instalaciones generales

Número de habitaciones: 1

Servicios en las habitaciones
Comparar "Apartment Mirande-David - ANG1227" con alternativas similares
Semi-detached bungalow located in a very calm, pleasant part of town close to the place des Cinq Cantons and its shops. The beach is only 800 m away. Within easy reach of the forêt de Chiberta forest, golf courses, the equestrian centre and tennis courts.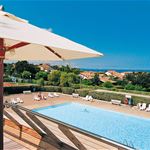 The holiday village boasts an ideal location, 300 metres from the beach and close to the stunning forêt de Chiberta forest. You'll be able to enjoy lovely poolside and sea views from the bar's patio area.
Recently-built ground-floor apartment with 2 main rooms (not including kitchen/bathroom) and patio, located in the Cinq Cantons district. Comfortable and modern, good quality fittings. Private parking space with direct access to the apartment.